Minor or Recurring Characters in this series,
Numb Chucks
.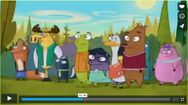 Recurring Characters
She is the toaster Fungus fell in love with in the episode A Toast to Love .
He is Fungus's teddy bear.
He appaerance 3 times in this series.He is dentist.
An initially unnamed TV reporter in Season 1 was revealed to be named Dawn Dingledash in Season 2.
He appaerance in Enter the Sheep and 3 times in this series.
He first appaerance in Legend of Snacky Chan.
He appaerance and speaking in Enter the Sheep.
Minor Characters
He is the foe of Woodchuck Morris. When Dilweed heard the noise coming from Hooves's house, he saw him.
He is robot,first character who dies in entire series.
He is a bear with a soft voice as shown in Attack of Hammerfist Man.
She is a cow that Hooves had a crush on in high school.
They help Buford Butternut for correcting himself.

See List of Main/Supporting Characters here.